Ida Isabella Hale
F, #5, b. 16 August 1913, d. 19 May 2005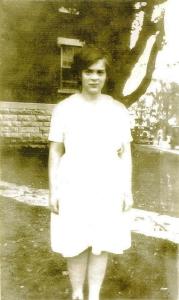 Ida Hale
Ida Isabella
Hale
was born on Saturday, 16 August 1913 at 22 Frichot, Toronto, York Co., Ontario, Canada, there was no Physician nor informant listed.

She attended Jessie Ketchum Public School. Her date of birth was August 26, 1913, address was 126 Davenport Road, father was Frederick Hale, Teamster for Britnel's, Baptist. She started on September 11, 1921, left April 22, 1922 and went to a shelter. There was no mention in her file of her being mute or mentally handicapped. An image of Jesse Ketchum P.S. can be found
here
. She appeared in the household of
Frederick
Hale
on the census of June 1921 at 91 Davenport Road, Toronto, York Co., Ontario, Canada. She was enumerated as: Hale, Ida, daughter, single, age 8, born Ontario, both parents born Ontario, Canadian, English, able to speak English, unable to speak French, Church of England, able to read and write, 8 months as a student, at school. Nothing noted as to her being mute. Ida died on Thursday, 19 May 2005 at The Southhampton Care Centre, 140 Grey Street, Southhampton, Grey Co., Ontario, Canada, at age 91 years, 9 months and 3 days of breast cancer, duration of 3 years. She was buried on Sunday, 22 May 2005 at the Innisfil Cemetery, 6'th Line, Innisfil Twp., Simcoe Co., Ontario, Canada.